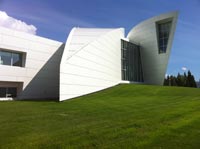 Museum of the North, University of Alaska Fairbanks.

About Fairbanks
Leon Unruh's Birchbark Press is in Fairbanks, Alaska, a city of 35,000 in the middle of Alaska. It sits along both the mighty Tanana River, a tributary to the Yukon, and the lesser but still scenic Chena River. Fairbanks is home to the University of Alaska and Fort Wainwright.
(Until 2009, Birchbark Press was headquartered in Eagle River, a rapidly growing town of 22,000 about 10 miles northeast of downtown Anchorage in south-central Alaska. The town sits in a glacially carved valley, forested by birch, aspen, and spruce trees.)
Fairbanks' maximum sunlight is almost 24 hours (summer solstice), and our shortest day is about 3 hours (winter solstice). On the equinoxes, we're just like everybody else: 12 hours of sunlight, 12 hours of darkness. We get 6 to 8 feet of snow between October and April. Summer brings kayaking, hiking, and fishing; winter brings downhill and cross-country skiing.
Birchbark Press is connected to the world by the Internet, phone, and U.S. mail, plus FedEx and UPS.
---
Home | About Birchbark Press | Services
Recommended books | Contact


Copyright ©2012 Birchbark Press and Leon Unruh