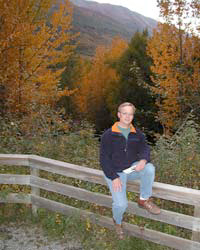 Leon Unruh in Chugach State Park, near Eagle River and Anchorage, Alaska.
About Leon Unruh

and Birchbark Press
Birchbark Press, operated by Leon Unruh in Fairbanks, Alaska, has provided manuscript editing and proofreading services to textbook and trade publishers since 1989.
College textbook publishers were my earliest clients when I started this career in Texas. The list has grown to include large university presses in New York, New Jersey, Oklahoma, and California and book packagers in California and Texas. I also am glad to accept projects from individuals and smaller organizations.
Experience
Editor, Alaska Native Language Center at the University of Alaska Fairbanks.
23 years of editing and proofing nonfiction and fiction books. I have edited more than 210 freelance projects in business, finance, history, linguistics, literature, psychology, law, education, journalism, economics, management, and marketing. I have proofed nearly as many projects in all those fields, plus computer programming.
27 years as a newspaper copy editor and supervisor.
12 years of editing Web sites (some of which overlaps with newspaper service).
At Alaska.com, I oversaw a statewide travel site for which I wrote most of the articles, and I still answer questions from the site's readers about destinations. During my tenure, Alaska.com, which is owned by the Anchorage Daily News, placed in the top three in national competitions run by Editor & Publisher and the Society of American Travel Writers, in addition to winning the "Best Media Web Site" competition in the Alaska Press Club.

I edited at these newspapers:

Anchorage Daily News / Alaska.com, 17 years.
Dallas Morning News, 7 years.
Wichita Eagle, 3 years.
Austin American-Statesman, 4 years.
In addition, I am a co-author of Final Destinations: A Travel Guide for Remarkable Cemeteries in Texas, New Mexico, Oklahoma, Arkansas and Louisiana. The book, published in 2000 by the University of North Texas Press, brings together a prize-winning project first published in the Dallas Morning News.

I also edit PawneeRock.org, a site about my hometown in Kansas.


---
Copyright ©2012 Leon Unruh